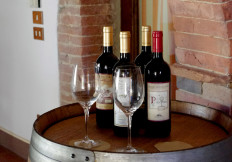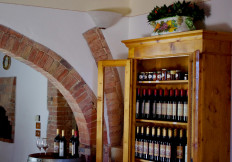 Fermentation, traditional in red, takes place in stainless steel casks at a temperature no greater than 30°C. Reassembly and delestage guarantee a complete and respectful extraction of the polyphenolic components (color and tannins) for a period varying from 10 to 15 days according to the season, and thus the degree of maturation of the grapes. On completion of the alcoholic fermentation and soon after drawing off, the wine is kept at a temperature of no less than 20/22° C and in contact with its fine lees to promote malo-lactic fermentation, essential for its future stablization and to obtain a softer and less acidic taste.
At this point, the wine is ready to be transferred into wooden containers, where it will complete its maturation and will remain for approximately 10 months before being placed in bottles.
Tasting notes
Color: brilliant, vivid ruby, tending to garnet red with age.
Odor: Fruity fragrance with obvious notes of violet and red berry.
IGT: intensely winey, persistent, fine, fruity
Flavor: A well expressed tannin, soft and mature. The palate is full and intense with a good balance among the components. Elegant, typical, and pleasing overall.
IGT: Harmonious, dry, savory, slightly tannic. Very drinkable, undemanding.
Ideal serving temperature: 18 22°C
Couplings: A versatile wine, from main dishes with red sauce, also important for any kind of roast, including fowl and fish. Coldcuts match perfectly with all Tuscan traditional cheeses, from fresh to seasonal.